NEWS
A RECOGNISED QUALITY SHOP FOR TEN YEARS
'SECOND HAND SHOP' has been awarded as a 'QUALITY SHOP' for 10 consecutive years by the HONG KONG TOURISM BOARD in 2012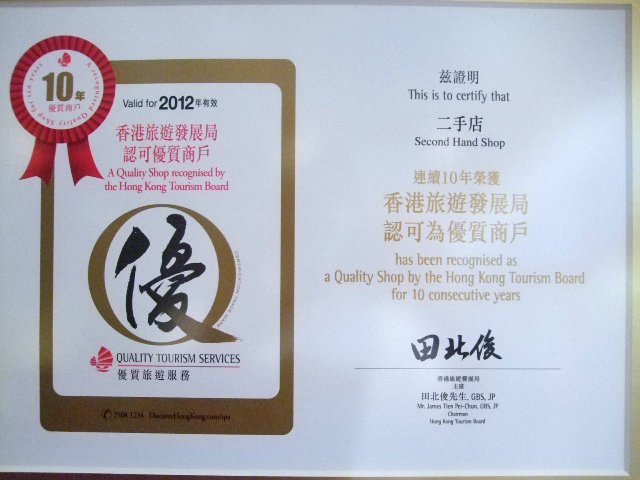 ---
BEWARE OF BEING DECEIVED!!!!!!
Recently. we have found a seller called 'janjanshop' in the Yahoo (Hong Kong) 'Bidding Ground' copied our photos frequently to mislead the publics. We, the Second Hand Shop' do not have any relation to this party. Everyone should be careful this party using not the 'real' product shots to attract potential buyers. Be careful!!!!!

Second Hand Shop
20th April 2012
---
SECOND HAND SHOP has been sucessfully admited to be the member of the 'HONG KONG RETAIL MANAGEMENT ASSOCIATION' and has been recognised to be the 'QUALITY' SHOP AND 'NO FAKES' pledged shop.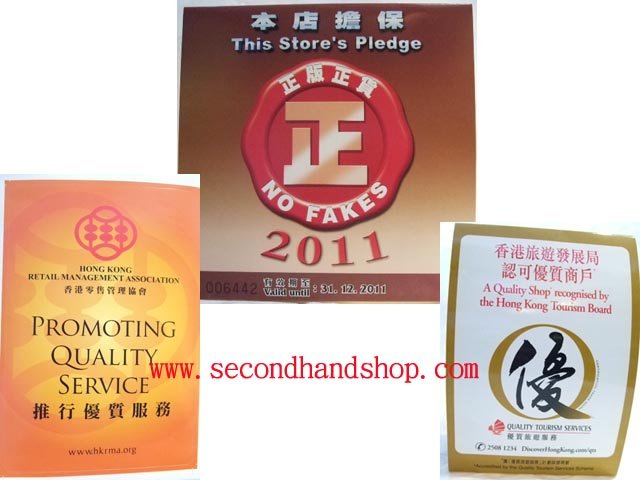 ---
VERIFY SERVICE TERMINATED
FROM NOW ON, OUR VERIFY (BRANDED GOODS) SERVICE WAS SUSPENDED. THANKS (NOV.2010)
---
'RECYCLING OUR LOVE' FOR TSUNAMI VICTIMS
May I express a bit concern for the victims of the disasterous tsunami . We hope that you can donate or sell your bags to our shop . We will donate the FULL AMOUNT of your donated items and half of our profit of your sold items in our shop starting from 1st Jan., to 18th Jan.,2005!
Please 'Recycling OUR LOVE' !!!!!
31st December 2004
---
SECOND HAND SHOP ENVIRONMENTAL PROTECTION SCHEME
FIRST STAGE

ENVIRONMENT PROTECTION STARTS FROM PEOPLE

Second Hand Shop will endeavor to contribute a series of campaign in order to achieve the mission of " Second Hand Shop, Environmental Protection Never Stop!"

Broadly speaking, not only air, water, trees, etc. to be the elements of environment, it is the 'human beings' who count most! We should protect the nearest element first - 'people'. Protect 'people' first and let them to protect the beautiful world!

Therefore, we donate a part of our profit to the 'Po Leung Kuk Child Sponsorship Programme' in Hong Kong in order to contribute our efforts to protect the needed children and let them having a healthy childhood. Once they felt a healthy childhood should they aware spontaneously that the world should be treasured !

Our members can apply to visit the sponsored children in the Po Leung Kuk . For details please call us at 2368-7990 during 12:00noon - 8:00pm daily

Thank you for your support!!